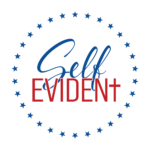 "For our struggle is not against flesh and blood, but against the rulers, against the authorities, against the powers of this dark world and against the spiritual forces of evil in the heavenly realms." ~Ephesians 6:12
Episode 8 of Self Evident continues our conversation regarding the prominence and propaganda of the LGBTQ agenda.
Read the "Parental Rights in Education" bill for yourself here.
Learn more about Jack Phillips and how you can help here.
Learn more about Aaron and Melissa Klein here.
Read about Samaritan's Purse here.